Spinal Decompression in Simpsonville
Have you been suffering from degenerative disc disease, protruding discs, sciatica, herniated discs, pinched nerves or radicular pain? At Good Life Health Care, we are pleased to announce that we offer spinal decompression, an effective and nonsurgical approach to addressing these and other conditions.
How Does Spinal Decompression Work?
As a form of mechanical spinal traction, spinal decompression separates the bones, joints and discs of the back. This separation reduces the pressure inside the disc allowing the disc bulge or herniation and the nutrients to be drawn back into the disc. The rehydration of the disc and surrounding structures produces a physical change, which reduces pain levels and supports the body's natural healing process.
What Are Some Benefits?
There are numerous benefits associated with spinal decompression: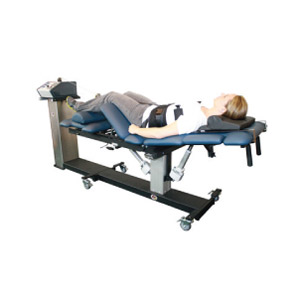 Is 85% effective in preventing spinal surgery associated with disc injuries
Gently stretches soft tissues and muscles
Decreases bulging and protruding discs
Separates the vertebrae and decreases pain
Helps the joint regain proper function
Gently decreases pressure on joint surfaces and discs
Allows the body to recover its proper alignment
Stretches ligaments and tendons
Increases range of motion and flexibility
What Should I Expect?
Before the procedure, we will have you complete some paperwork, so we know what caused your injury and how long ago it occurred. You don't need to wear any particular type of clothing. Dr. Lacey will review your MRIs, take X-rays on-site and perform a physical exam.
Dr. Lacey will have you lie down on your stomach or back on the special table and place a strap on you. Subtle and painless pressure will be applied to your body. Over the course of your treatment, spinal decompression allows the nutrients and fluid to flow back inside the discs, healing the disc fibers.
The Good Life Health Care Difference
While spinal decompression is offered at many different offices, our practice is the biggest spinal decompression center in the upstate of South Carolina. Dr. Lacey has been providing this modality since 2010 and has seen thousands of patients get better with it!
To determine if you are a suitable candidate for spinal decompression, contact our Simpsonville practice today to book a consultation with Dr. Lacey.
Spinal Decompression Simpsonville | (864) 757-8997